Electromechanical Services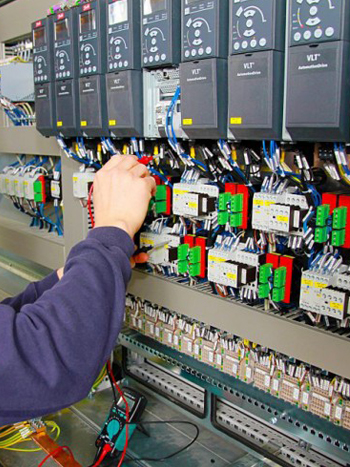 You will have the conviction that our services make a difference from the competition for seriousness, optional services, competitive prices, as well as highly trained personnel who carry out the work contributing with the necessary security.
We provide a personalized service, with customer orientation, always focused on the optimization of resources, materials, human and economic, obtaining an increase in the investment of our customers, reducing their costs appropriately.
Our services:
1. Design and implementation of electrical projects.
○ Design, creation and development of electrical projects of any branch such as residential, industrial, low, medium and high voltage networks, power facilities, power plants, lines, transformers, capacitor banks, motors, pumps, drives, drives, protections , and all kinds of professional electrical installation.
○ Design of electrical Plans, Explanatory Reports and Technical Specifications.
○ Design, construction, maintenance and testing of electromechanical installations and services.
○ Installation and maintenance of electric power generating plants.
○ Installation of electrical and industrial equipment, furnaces, induction cookers for residences and industrials, refrigerators and refrigerators, industrial washing machines, etc.
○ Design and installation of ground meshes (thermofusion).
○ Installation of lighting, interior and exterior ornamental and functional type. Luminosity regulators, timers, infrared remote control.
2. Advice and control of projects. Supervision of works
○ Coordinate and supervise works, ensuring the quality of the construction of the electrical distribution network, carrying out the pertinent actions to avoid any delay in the work program, and the work concepts are carried out in a timely manner. Being able to solve problems on site with construction superintendents, all according to the applicable standards.
3.- Maintenance and repair of electrical, electronic and electromechanical equipment.
Electrical connections 110 and 220 v, residential and industrial.
Starters and speed variators.
Electric motors.
Saws and jigsaws.
Lighting systems
Band conveyors.
System support for DATA CENTER.
Ventilation and air conditioning systems.
Photovoltaic systems.
Physical Earth system.
Lightning rod system.
Small power, low power (10 to 30 kVA) and medium power (40 to 250 kVA) UPS.
Mechanical stirrers.
PLC programming and reprogramming.
Ventilation system.
Electric ovens.
Other electrical equipment.
 4.- Comprehensive study of the quality of electric power
Feasibility and efficiency.
Load balance.
Improvement of power factor.
Measurement and analysis of networks.
Earth measurements.